admin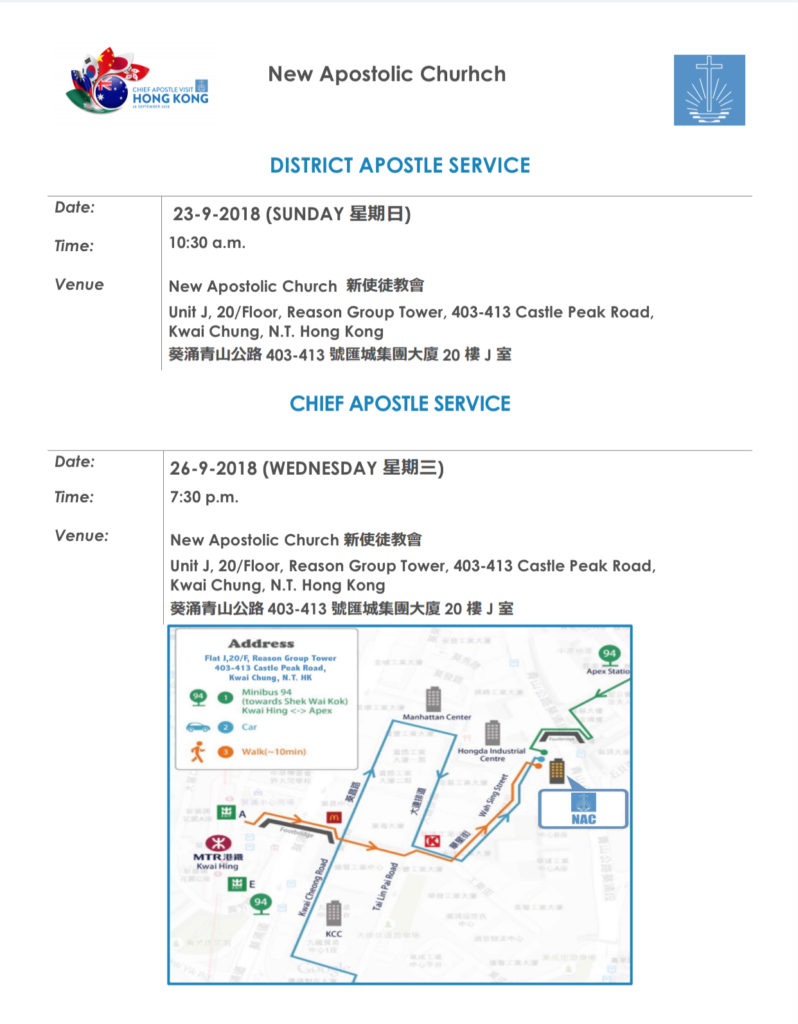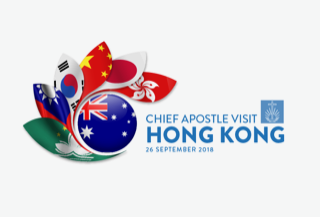 Yesterday's Divine Service for the departed was conducted in Hong Kong by the District Apostle. The sermon elaborated on Matthew 28:18.
"Jesus Christ has power to redeem all souls, on earth as in the beyond. He wants to use His authority for salvation of all souls and we want to help Him being a witness and give proof of our faith, fidelity and unity being one with Him in following"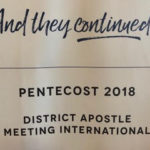 The District Apostles from all over the world gathered in Washington DC for their first annual meeting. Their wives visited a charity organization, also the Bible Museum and engaged in a discussion on the early church.
After intensive deliberations during 2 days they made a short sightseeing tour visiting Arlington cemetery, the Lincoln Memorial and the Vietnam Veterans Memorial. An exhibition on various NAC programs rounded the program up. Continue reading →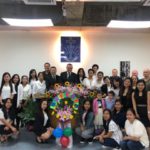 Finally the days of concerns are over. The move has been successfully completed and Ap. Fred Wolf could dedicate the new Hong Kong Church location on Sunday, 8th April 2018, with a reading from Psalm 27:4
one thing I have desired of the Lord, that will I seek: That I may dwell in the house of the Lord.All the days of my life, To behold the beauty of the Lord and to inquire in His temple
This multicultural congregation of Hong Kong is very happy and thankful to have found a new home.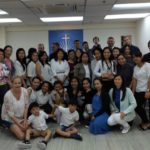 The famous "crying and laughing" eye could be seen on Easter Sunday. Radiating Easter joy in the one eye and a tear of sadness in the other because it was the last service of Hong Kong congregation in the present location. The premises on the 20th floor in the Sheung Wan Commercial Building have to be vacated and after the Easter Service. DEv. Ilex Lam has decommissioned our chapel which once was dedicated as a place of worship and divine service. Continue reading →
NAC Church Dedication Service will be held by Apostle Wolf at 10:30am on April 8, 2018 in our new premise at Suit J 20th Floor, Reason Group Tower, Castle Peak Road 403-413 (Kwai Chung), Kwai Chung, New Territory, Hong Kong.
Effective from 8 April 2018, Hong Kong congregation will be moved to the following address:
Flat J, 20th Floor, Reason Group Tower, 403-413 Castle Peak Road Kwai Chung Section, Kwai Chung, N.T. (Kwai Hing MTR Station Exit A)
The Divine Service will be started at 10:30 a.m. on every Sunday from 8 April 2018.
新使徒教會於2018年4月8日遷往以下地址:
新界葵涌青山公路403-413號滙城集團大廈20樓J室 (葵興港鐵站A出口)
聚會時間為逢星期日早上十時半開始。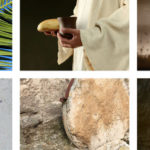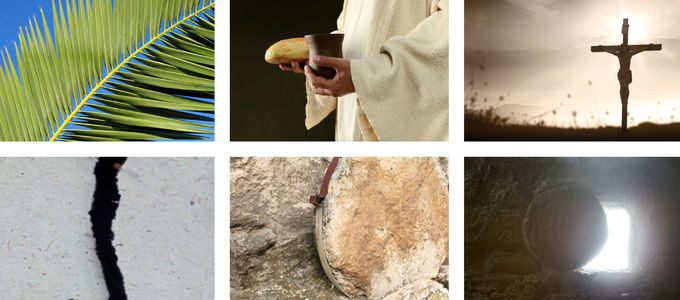 The events between Palm Sunday and Easter are full of suspense: a man is betrayed, scorned, accused, arrested, and killed. Jesus goes through hell and reaches heaven. A timeline from the Gospel of Mark.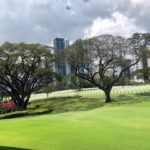 Coming Sunday the New Apostolic Church worldwide celebrates the first of three yearly divine services for the Departed. Based on the understanding  that God wants all men to be saved we believe that sacraments are not limited to souls living on earth. We pray for all mankind. Only Jesus can deliver from evil and draw souls to Him. Salvation is not just limited to life on earth. Jesus sent His Apostles to help all in need; let us have empathy for all souls, here and in the beyond and have the desire to contribute to their salvation. Continue reading →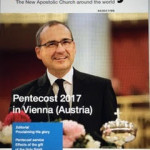 Our magazine "community" No. 4/2017 has been published and can be downloaded from this Webpage. Print copies will be distributed in the congregations. Continue reading →